Hello and welcome to the Members Area of our website. It's designed to help the lovely people in the current 2023 edition of The Extra Mile. It's where you'll find links to download lots of useful things (words, pictures, social media assets etc.) to help you promote the book at your venue and locally, for no-one knows your area – and the local media outlets that locals love, read and listen to – better than you do.
What you'll find in the Members Area shared folders
Assets to help you promote the book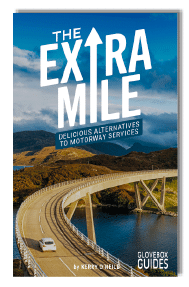 Follow this link and it will open a shared folder packed with loads of digital assets (essentially, pictures and posters!) to help you promote the book/ your inclusion in the book locally. The folders contain:
Reorder the book 
You're welcome to buy more copies of The Extra Mile to sell on at your place, to further profit from being a part of The Extra Mile's collection in 2023/2024. Simply email kerry@ with the number of copies you like and we'll get straight on that, it's a minimum order value of 8 books to get free shipping. Please see the email, sent 19 Sep, for festive discounts and book bundles. To browse all our books, visit our Online Shop here. 
Ideas to help you promote the book (in-store)
Ideas to help you promote the book (online)
Improve your (free) Google Business profile 
Something we noticed while travelling the country and researching this book, is that many businesses have not 'claimed' (or do not keep updated) their presence on Google Business. Love it or hate it, Google is a powerful search tool used by millions. Maximise your chances of getting found by improving your free listing on Google.
If there's something else you'd like to see in this Members' Area, do let us know by emailing hello@ and we'll see what we can do. Thanks, Kerry, Ele and all at The Extra Mile.