Sale!
GIFT BUNDLE (THE EXTRA MILE ED. 4 AND TRAVELLING LIGHT)
This great value duo ticks all the boxes: get a really useful foodie travel guide for yourself along with Travelling Light, the entertaining memoir of Alastair Sawday: environmental campaigner, British travel industry legend and founder of The Extra Mile's publishing company, Printslinger Ltd.
The Extra Mile: Delicious Alternatives to Motorway Services (4th ed.) is one of 2023's best-selling and 'Most Gifted' travel guides online. It's packed with over 275 delicious places to stop and eat near motorway (and A-road) junctions, to help you avoid motorway services. Use the book and its handy maps to find local farm shops, cosy cafés, dog-friendly pubs or unusual places to eat, supporting the local, independent food businesses along your route. Covers motorways and main roads in mainland England, Scotland and Wales.
Features:
Over 275 places to eat and drink with times, descriptions, images, contact details
11 motorway-based maps
6 regional maps
QR codes to help you get directions more easily
Map showing places with EV chargers
Buy for your own glovebox or as a gift
Travelling Light: Alastair Sawday: Writer, wanderer, published and campaigner Alastair Sawday has spent his life travelling, taking pleasure in rooting out special places and unique people. An advocate of the light touch, he's been a pioneer in the environmental world and has enjoyed a varied career, which has taken him to far-flung corners of the globe. He was born in the mountains of Kashmir, sailed yachts around the Caribbean, led a VSO programme in Papua New Guinea, taught French and Spanish in St Lucia and ran a travel country guiding hikers around Europe. Eschewing package tours and cookie-cutter hotels, his experiences here inspired him to publish his first travel guide, French Bed & Breakfast, listing special B&Bs and the welcoming people that run them.
In his memoirs, Travelling Light, he collects together his tales from the road and the sheer joy of travel. Learn of his slips of the tongue in deepest France, gastronomic journeys through Italy and travels through the silent woodlands of rural Britain.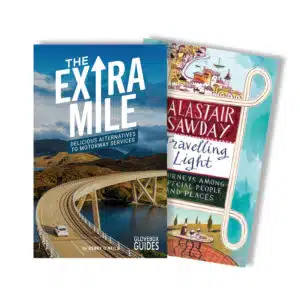 Glovebox Guides is an imprint of Printslinger Ltd.