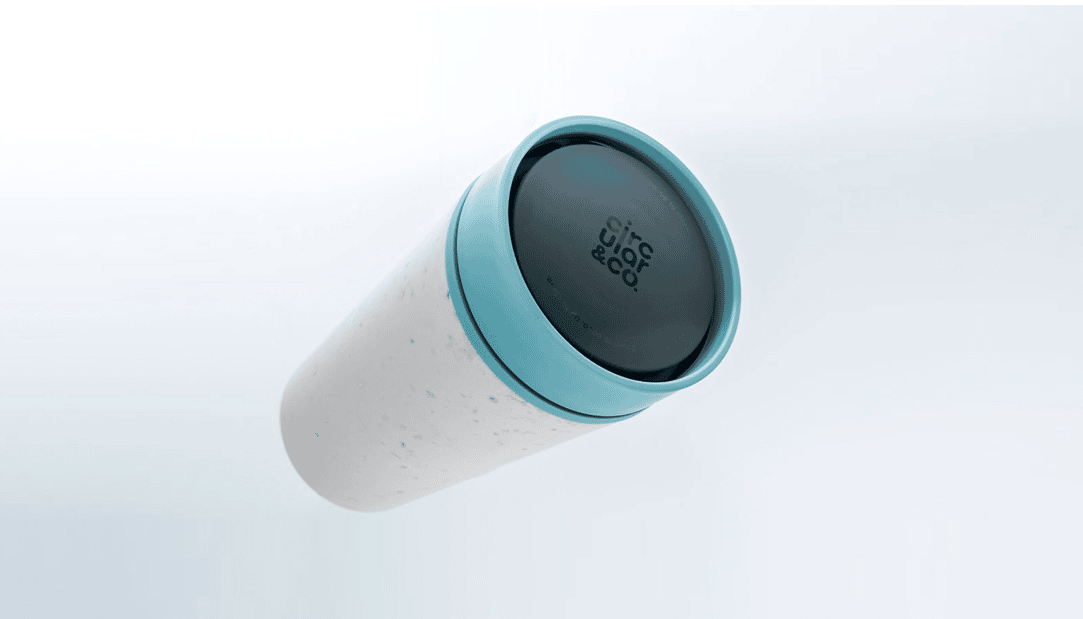 Britain has developed a vibrant coffee culture over the last decade or so, and the morning (afternoon and evening) brew has become an important daily ritual for many of us. In the UK, we drink around 98 million cups a day, as part of an industry worth more than £9 billion.  
On the flip side, Britain gets through 2.5 billion disposable and hard-to-recycle coffee cups each year, a number set to increase by a third by 2030. Fortunately, the amount of coffee cup recycling facilities in the UK is growing along with an awareness of the problem.  
Sidestep the hassle of what to do with your used single-use coffee cup by carrying one of these handsome reusables in your car instead – bagging the discount that frequently comes with a BYO cup while you're at it.  The Kitchen at Croxley for example – an Extra Mile venue – offers a 20p discount if you bring your own cup (their takeaway cups are compostable, too).  
Circular&Co Reusable coffee cup, £14.95 
A cup, made from old single-use coffee cups. If there's a more guilt-free way to enjoy your coffee on the road, we'd like to see it. You can open the lid with one hand and drink from any side, yet it's still leakproof. Designed to last for 10 years, it fits in most car cup holders and is safe to put through the dishwasher.  
Stojo collapsible coffee cup, £12.99 
This is a compact option if you're short on space and it can be tucked into most shoulder or handbags. Made of silicone, this little cup concertinas down into a pocket-sized disc when you've finished using it, while a lid plug ensures no coffee residue leaks out. A rigid plastic cuff saves your fingers when your coffee is hot.  
Klean Kanteen insulated TKWide with café cap, £25.95 
This vacuum insulated cup will keep drinks hot for 11 hours (or 38 hours, iced). It claims not to retain or impart flavours which is appealing if you've ever tried in vain to rid a flask of lingering milk smells. Works as a water bottle, coffee mug, sport bottle and insulated cup. Designed with an impact base-cap to protect it from bumps, it's chip resistant and the lid can be disassembled for easy cleaning.  
Smidge travel cup, £15.40 
Double-walled stainless steel stops heat escaping anywhere fast, while a screw-top lid with two silicone seals claims to be 100% leak-proof. It comes with barista-standard internal measuring guides, fits under most coffee machines and is available in a range of cheerful colours (with matching water bottles). The cup is only suitable for hand-washing at the moment, but is easy to disassemble and clean.  
Coffee BugBear, £18 
If the pandemic has left you more germ-aware than ever, try BugBear's reusable cup with patented antimicrobial protection shielding its stainless steel walls. Double-skinned to keep in the heat, it has a screw-on cap to prevent slips slopping out.   
SoleCup, £16 
An aesthetically appealing cup made in the UK from tempered glass with a cork band for easy grip. With the option of an infuser accessory, it works as well for smoothies and tea as it does for coffee. For the eco-minded, the cup is 100% recyclable and arrives in plastic-free packaging.  
Bru coffee cup, £17.99 
Made to last from powder-coated stainless steel, with matching bottles available if you're a co-ord kinda person, this is a stylish cup for on-the-go. It's designed to fit under most coffee machines (though perhaps not in car cup holders) and is large enough to hold a standard, 340ml latte. Dishwasher safe and can be recycled with scrap metals at the end of its useful life.  
Chilly's Series 2 coffee cup, £36  
Shaped like a drinks can and available in a wide range of patterns and colours, this stainless steel coffee pod is a stylish addition to your road trip. Get yours engraved with your name if you're not up for sharing, and put ownership arguments to bed forever. It's not dishwasher safe, but – tip – use bicarbonate of soda if you ever need a thorough clean.  
Corkcicle Travel Cup, £44 
Prefer your coffee cup with a handle? The whopping great Corkcicle could be for you. It's triple insulated, has a snug, clear, see-through lid and has a stay-put grippy silicone base so it doesn't slide around the dashboard.  
Frank Green reusable cup, £28.99 
A handsome design that comes in an array of colours (including neon lids), Frank Green is a discerning choice for the travelling coffee drinker. It's easy to use with one hand (thanks to a push-button lid), is designed to fit in cup holders and is spill resistant. Despite the ceramic lining, its makers claim the base is unbreakable, which means you can polish the stainless steel exterior to your heart's content with the microfibre polishing cloth supplied with it…if polishing is your thing. 
Huskeecup, £14 
Made from coffee husks, this cup is a waste-free wonder. Durable and insulated, it's designed for coffee-to-go, and when it's no longer at its best, you can exchange it in a participating café through HuskeeSwap (see the app for details) or return it to the company for recycling.  
If you're an Extra Mile café or eating experience that offers a discount for those bringing their own cup, let us know and we'll promote you below. If reading this, you obviously prefer your hot drinks to be HOT – whether at home or on the go – or you're buying a gift for someone who really cares about their coffee. Get the most up-to-date edition of The Extra Mile guidebook here, to make the ultimate birthday or Christmas gift combo for the hot drink lovers in your life. 
Venues offering an own-cup discount