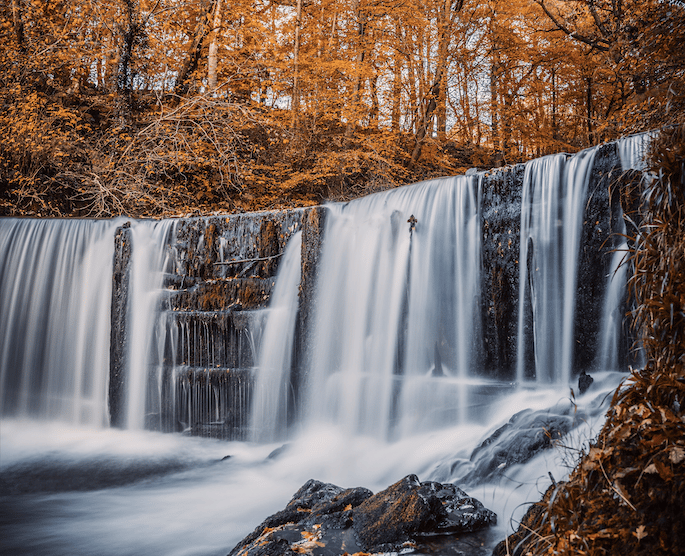 As a rainy, lumpy country, there is no shortage of waterfalls in the UK. After a hot, dry summer where most dwindled to trickles, one benefit of the seasonal turn to drizzle is that the waterfalls are back in full display. Waterfalls also emit negative ions which are said to be good for your health, helping with mood, sleep, metabolism and our immune systems. For a truly restorative stop, work one of these into your journey. 
Waterfall Country: The Brecon Beacons National Park
Though famous and increasingly popular, it would be churlish not to mention the Brecon Beacon's famous waterfalls at the southwestern corner of the national park. The Four Falls Trail is a well-trodden route taking in several of the area's finest. Wales's answer to the rain forest, the area is as magical as it is fragile, so do make sure you stick to the paths and take litter home (which we hope would be a no brainer). Visit Waterfalls Country on the National Park website – the lovely falls pictured below are in Neath.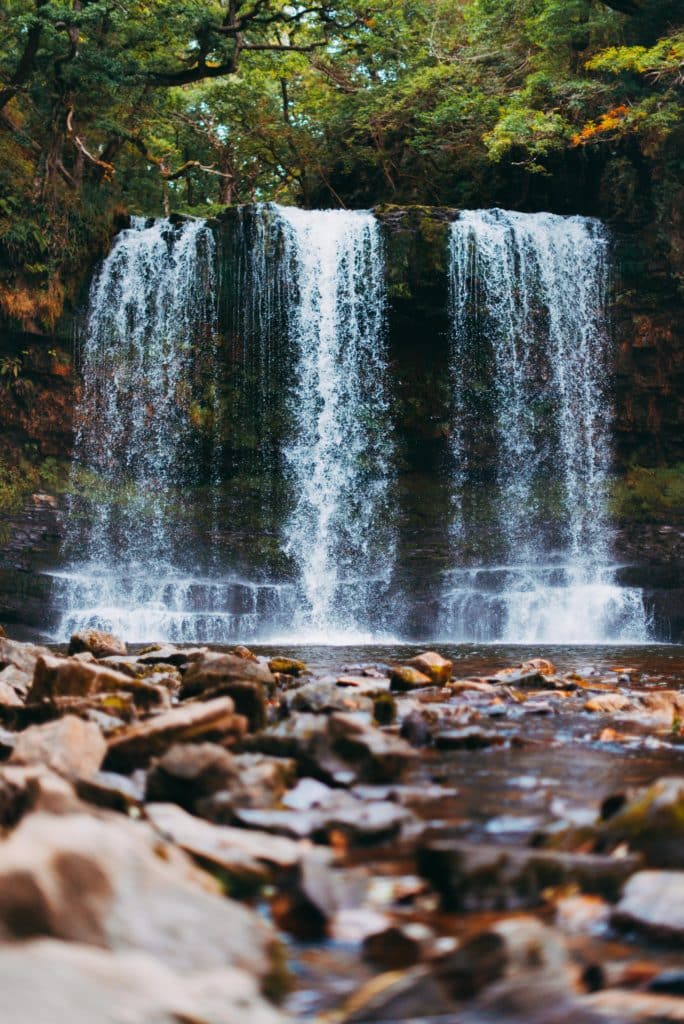 Grey Mare's Tail, Dumfries
Watch the water tumble 60m from Loch Skeen into the Moffat Valley. Consider a ranger-guided walk to learn more about the fossils, rare upland plants, ring ouzels and vendace found here. The drive from the M74 to the reserve along the A708 is said to be one of Scotland's most scenic as well. Find out more with the National Trust for Scotland.  
Thornton Force, Yorkshire
A popular cascade on Yorkshire's waterfall circuit, the water here falls over the edge of a limestone cliff to dramatic effect. It's one of several falls on the Ingleton Waterfalls walk (so named for the nearest town) and is the most popular. If you want it to yourself, try timing your visit for a weekday. The Dales are home to more than 50 waterfalls, so if you'd rather find a lesser known one, try one on this list. Uncover the area courtesy of the My Yorkshire Dales website.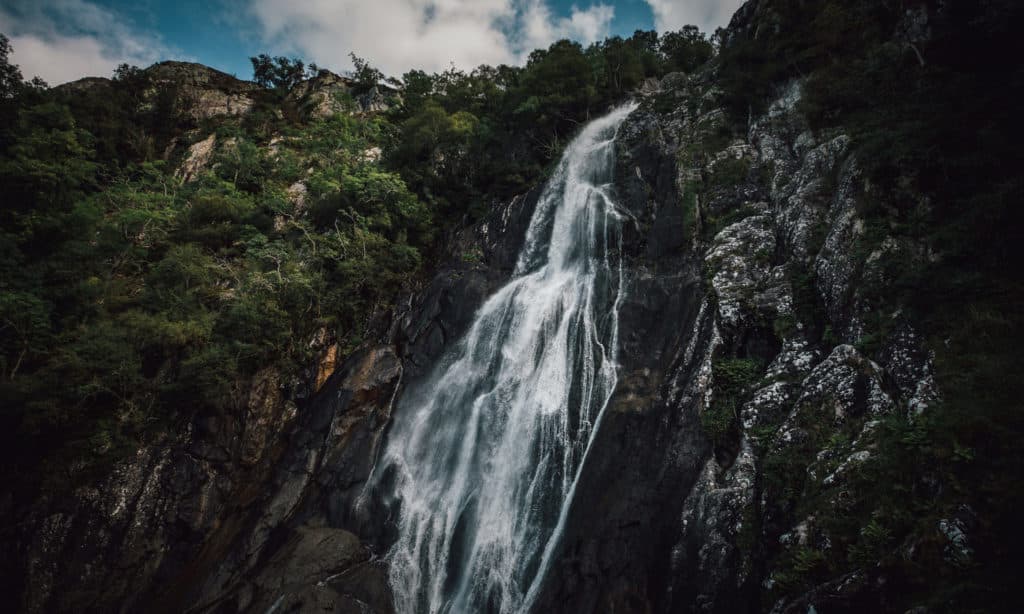 Aber Falls, Snowdonia
Just a short distance from the A55, Aber Falls (pictured above) is an impressive introduction to the Snowdonia National Park. It's at the foothills of the Carneddau where the Afon Goch (Red River) descends into the Menai Straits. The 4.5km path is accessible to all and has picnic areas and open spaces for running off some steam. Explore Aber Falls online before planning your trip. Image (c) Snowdonia.gov.wales.
Hellgill Force, Cumbria
Although Aira Force is arguably Cumbria's most famous (and there ought to be a lot of waterfalls in England's watery lake district), Hellgill Force is an impressive slot-canyon fall at the start of the River Eden under the Crinkle Crags fell. It's easy to reach from the B6259 and there's a small parking area available at Aisgill Moor Cottages. Find out more about Aira and its neighbouring falls here at Visit Cumbria.   

North Glen Sannox, Arran
Beautifully clear waters slip over the granite stone here in a pretty series of waterfalls (pictured below). If your trip is taking you out to the islands of Scotland's west coast, make this one of your stops. And if the islands aren't on your itinerary, consider adding Arran, which at a 55-minute ferry ride from Ardrossan, is one of Scotland's most accessible. Explore North Glen Sannox's pools and falls.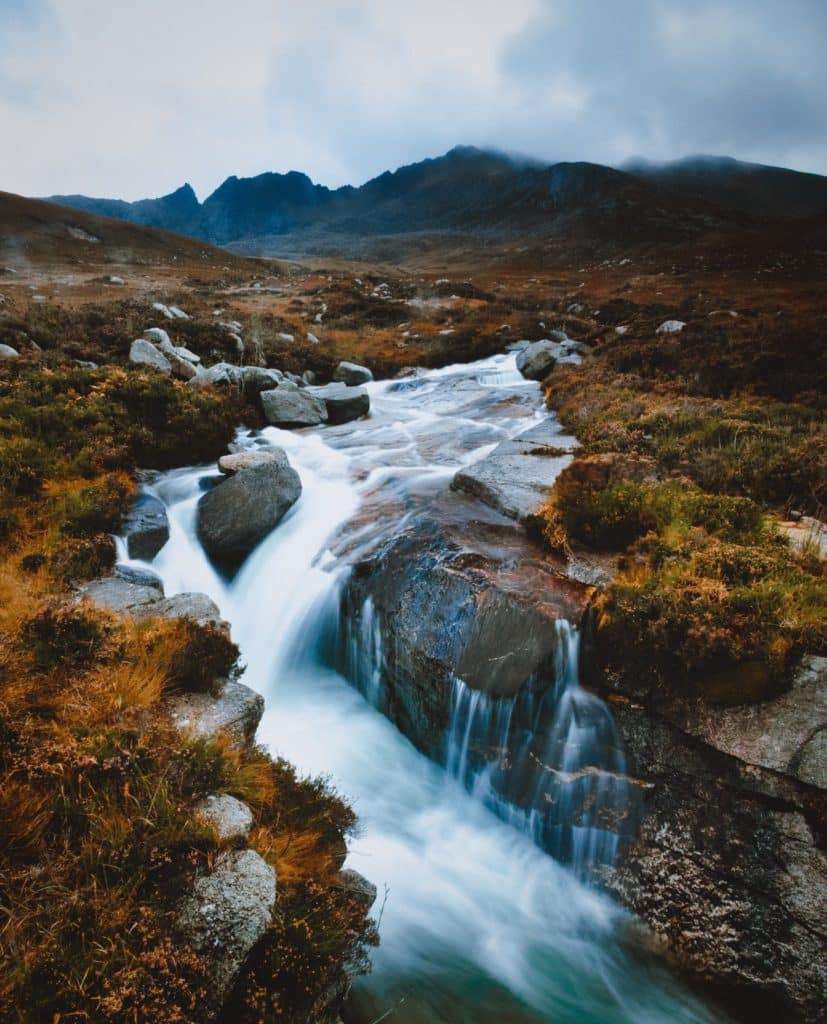 Water-break-its-neck, Powys
So memorably named we had to include this one in mid-Wales! At Water-break-its-neck, hills and rivers combine to create a selection of tall falls. It's easy to reach through a forested path and is suitable for little legs as it's only a kilometre there and back from the car park. Explore Water-break-its-neck (pictured below) and surrounds on this Country File recommended walk.