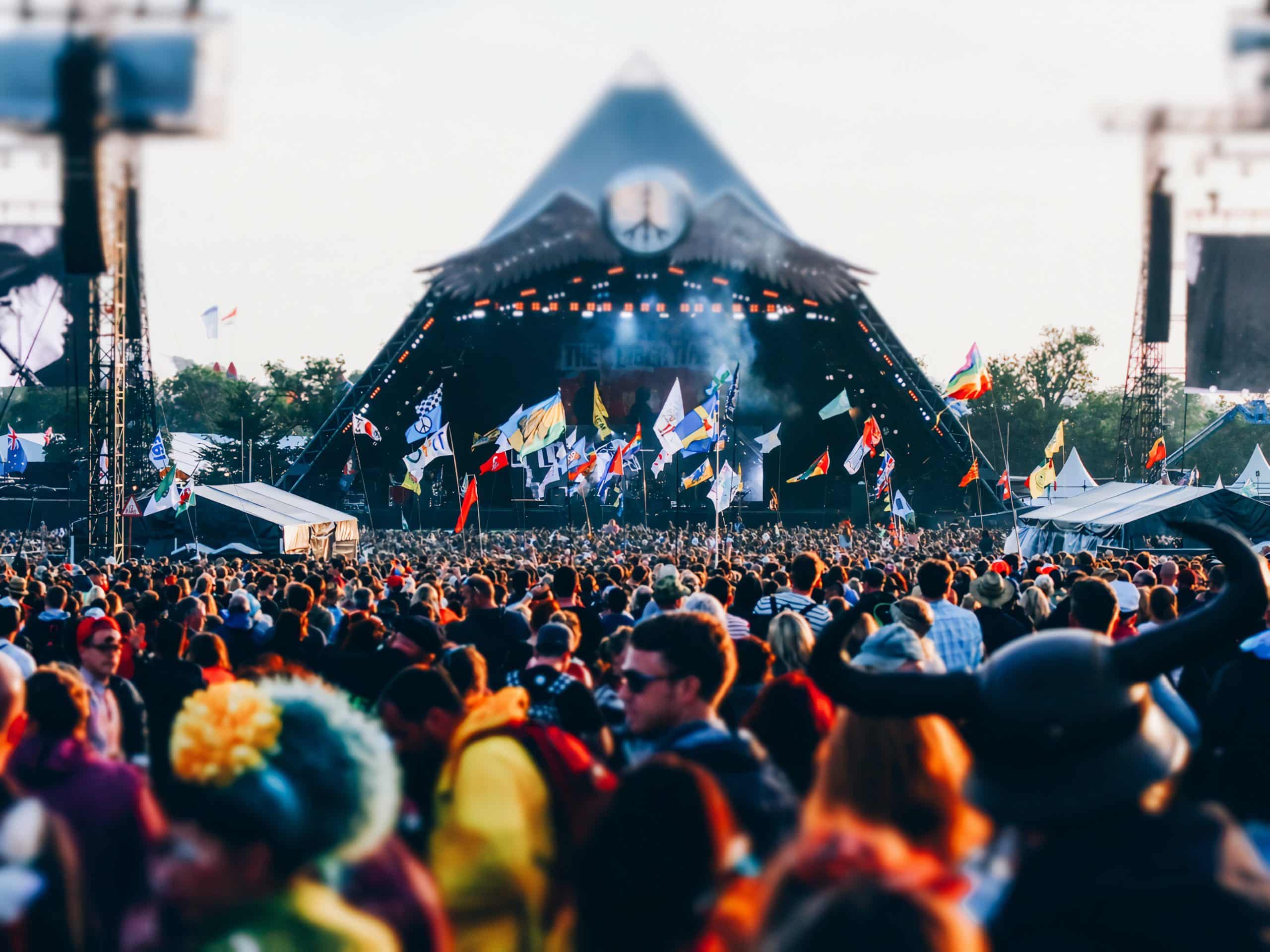 Road tripping to Glastonbury? Looking for somewhere to stop for food on your way to the mighty Glasto? If you're in need of proper, good food ahead of a weekend of hedonistic indulgence, we've got you covered. These fabulous local businesses are mere minutes from some of the main road routes to the great tented music city.
Driving to Glastonbury from the north: Hartley Farm Shop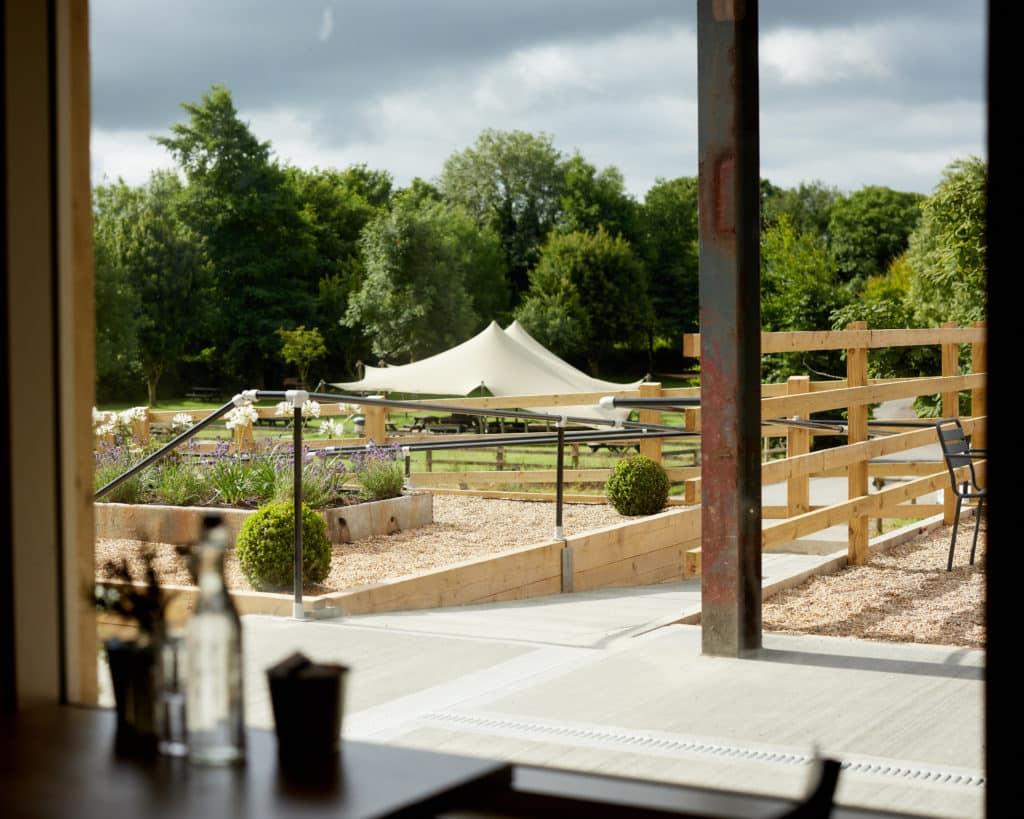 For those wending their way south of the M4 on the way to Pilton, it's worth planning a stop at Hartley Farm Shop near Bradford-on-Avon. You can line stomachs with proper farm house breakfasts or wood-fired pizzas (depending on the time of day) and grab some car snacks for the onward journey. We'll never stop going on about sausage rolls as a supreme car snack, and theirs are excellent. A first-rate place to stop to eat en route to Glastonbury. 
Heading to Glasto off the M5: Honey and Ginger
If you're driving the fast M5 route to Glastonbury, it's a short swoosh off the carriageway to find Honey and Ginger. As the Extra Mile is Bristol-based, you're in our stomping ground so we're regulars at this fabulous shop and café. Grab yourself a frothy coffee and pastry to tide you over the rest of your journey, and if you're a late arrival to the festival and passing on a Friday, don't miss the doughnut specials.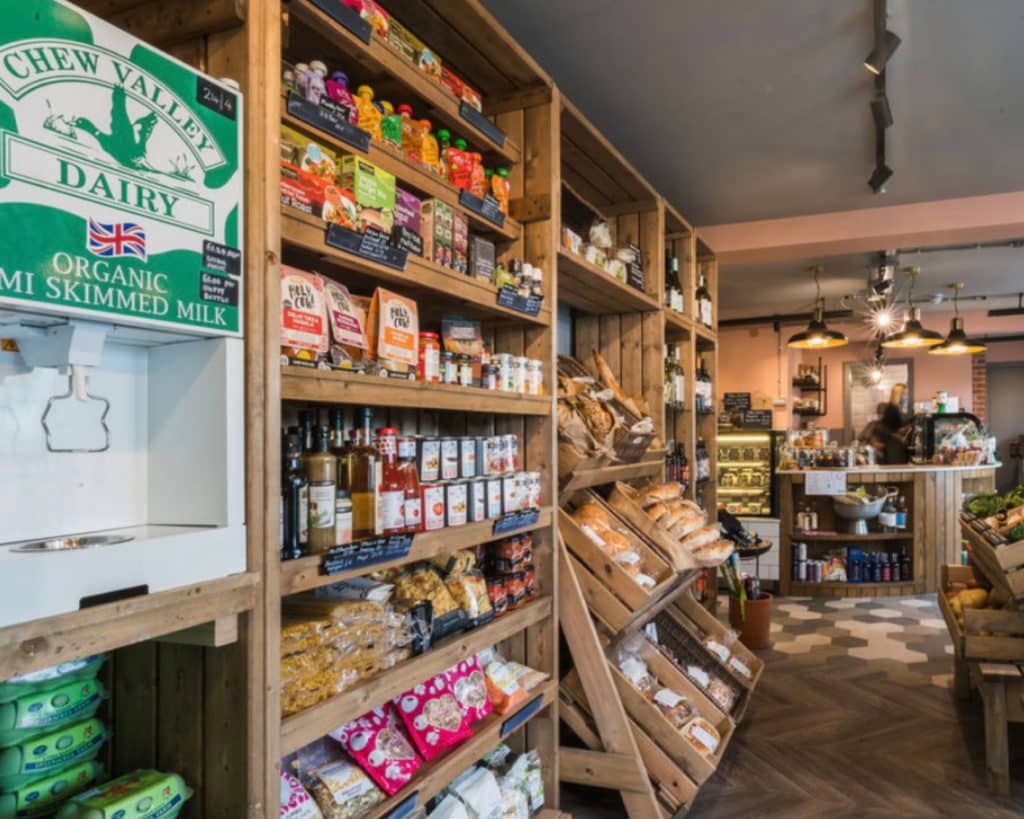 Driving to Glasto from the east: Teals Farm Shop, Somerset
Driving to Glasto from London or the east? The A303 takes you most of the way from London to the Glastonbury festival site. The most direct Google maps route will take you off a little earlier to cut through Warminster, but stay on the main road a bit longer and you'll avoid some traffic AND get to stop at the marvellous Teals Farm Shop. You can stock up on camping supplies in the cavernous food hall, have a hearty plate in the café, or cool down with a gelato ice cream.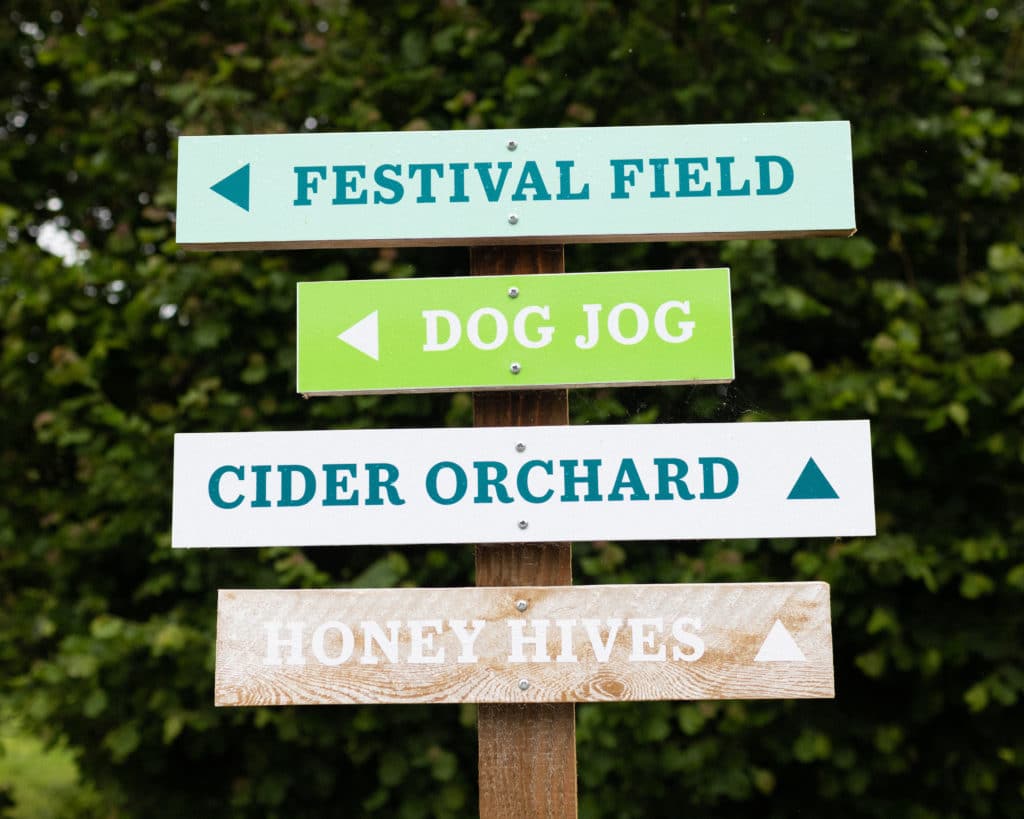 Driving west to Glastonbury: Longstock Park Farm Shop
If you're driving from the east to Glasto on the A303 and want to find somewhere good and local to eat on your way, a 10-minute detour can have you at the door of Longstock Park Farm Shop. Estate-harvested ingredients are whipped into  delicious brunches and lunches and the cakes are second-to-none. Grab a bench in the orchard to peruse the set listings over an iced coffee before you reach festival bedlam. This is actually the farm shop of Waitrose and Partners (not a lot of people know that) so the quality is predictably high.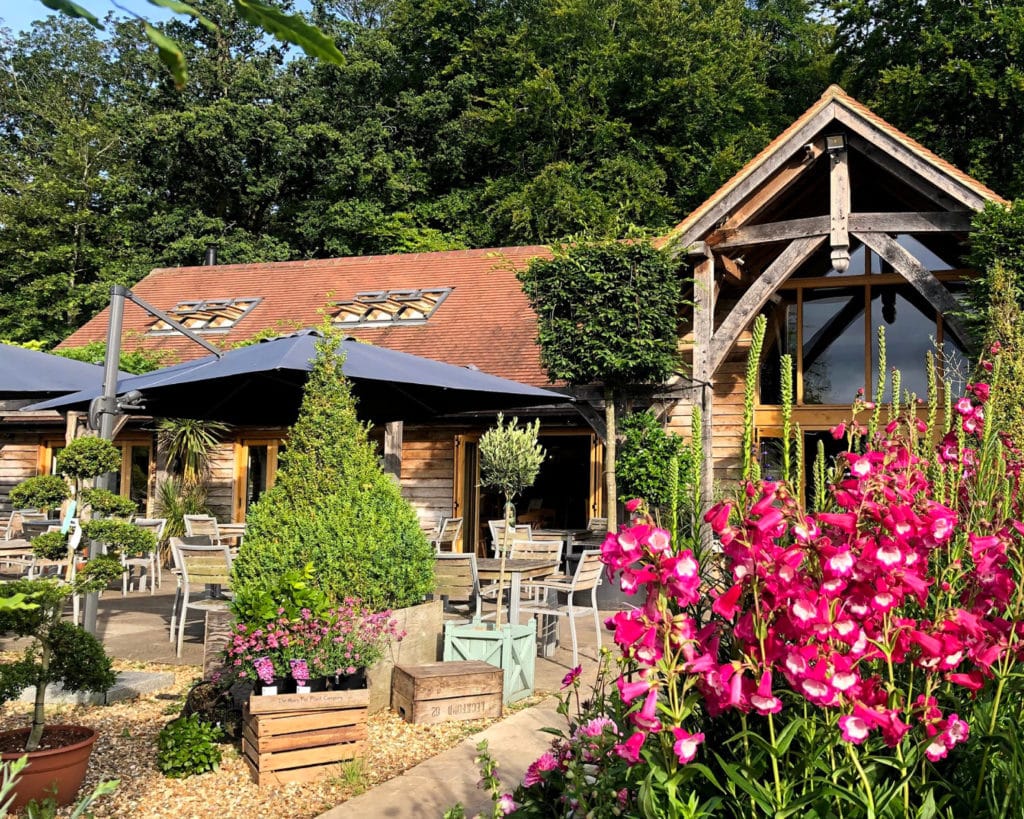 Driving to Glastonbury from Wales: visit Haughmond Village Store
Driving down to the festival of festivals from North Wales? Split the journey at Haughmond Village Store, Café and Bakery. As the name suggests, it's an all-rounder. Pep yourself up with a coffee while you charge your electric car, tuck into a homemade pasty, or stash some sandwiches and supplies for later in the journey.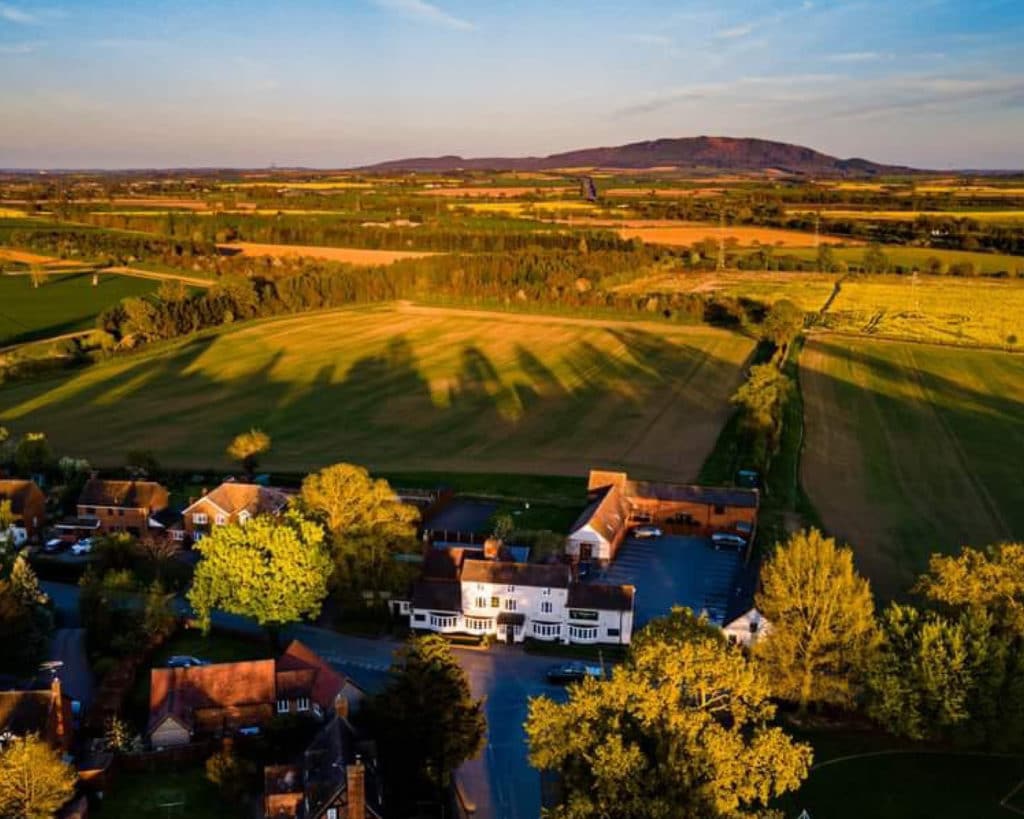 Driving from Wales to Glastonbury: Forage Farm Shop
Those making the pilgrimage to Glastonbury from South Wales would do well to stop at Forage Farm Shop. A celebration of Welsh food and flavours, the kitchen serves up tantalising and hearty meals (even late into the evening on summer weekends), so you can enjoy a proper feed before letting loose on the dance floors. The farm shop shelves are stocked with seasonal, natural products too, so it's a good place to stock up the cool box.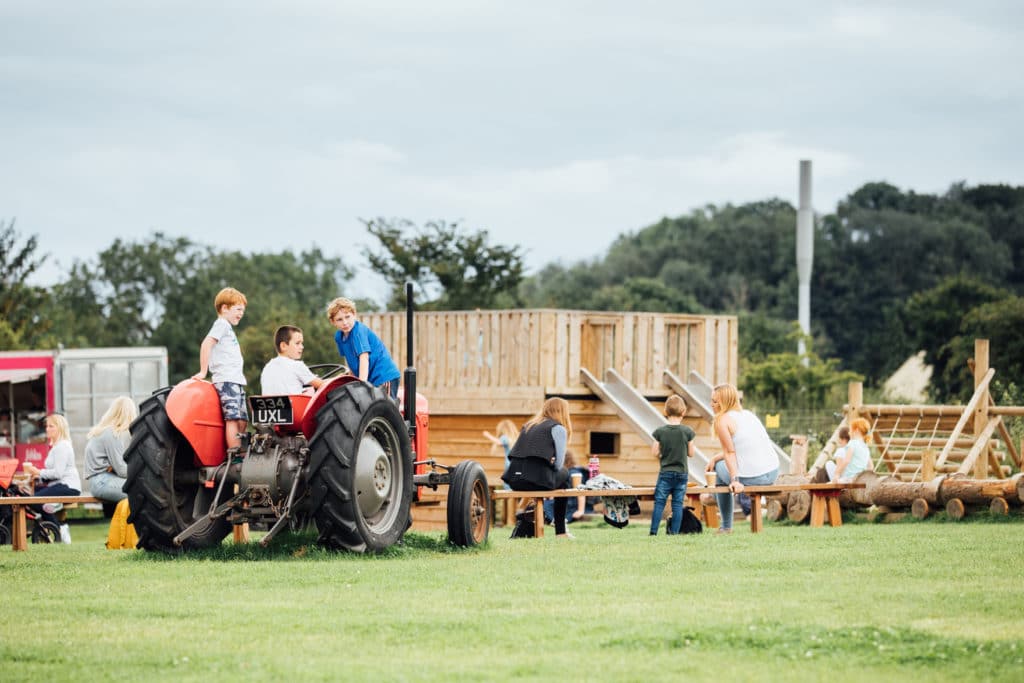 Driving to Glasto from the South West: Sheppy's Cider Farm
Get into the Glastonbury spirit by pausing your journey at a Somerset cider farm. Sheppy's is a well-established family cider business that has successfully branched out (pardon the pun) into hospitality. Non-drivers could sup a refreshing glass of the good stuff, while everyone will enjoy the sizzling sausages and tasty plates in the café. Stash some deli goods in your bags for some decadent festival treats later in the weekend. A classic West Country stop on your way to the West Country's best-known event.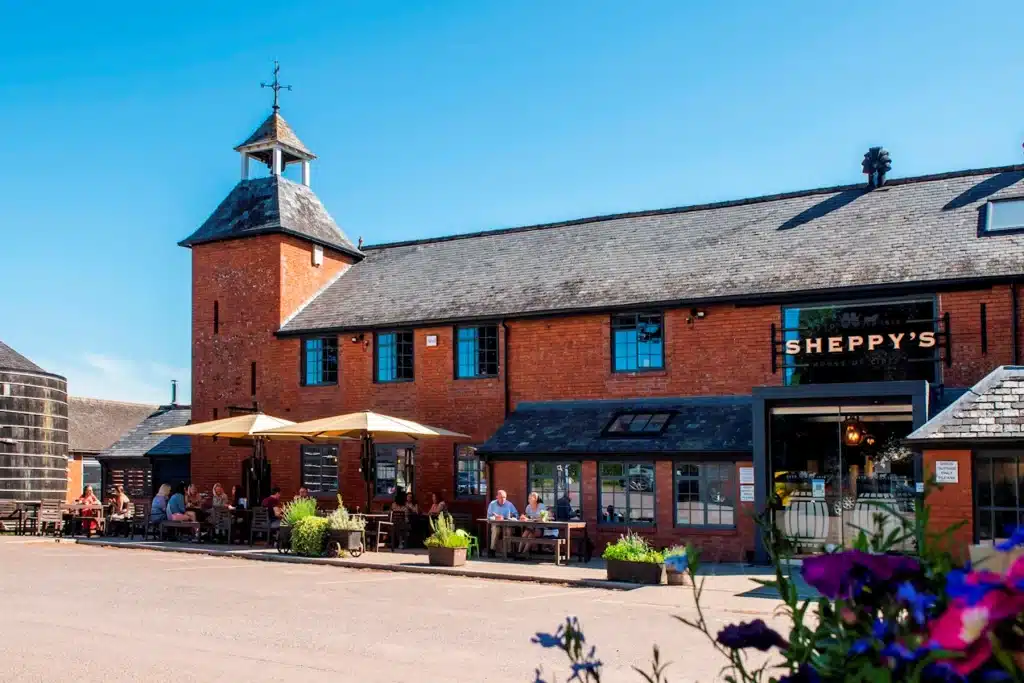 Food stop near Pilton: take me to The Bridge
Just half an hour away from Pilton, you're probably at the fringe of the festival traffic here, so if the queues are getting too much pull into The Bridge Bakery and Canteen for a tasty brunch, cooling sorbet milkshake, or moreish cookies. Enjoy a moment of rest on the banks of the River Parrett before embarking on the final furlong of your Glastonbury journey. A great place to stop to eat on your way to Glastonbury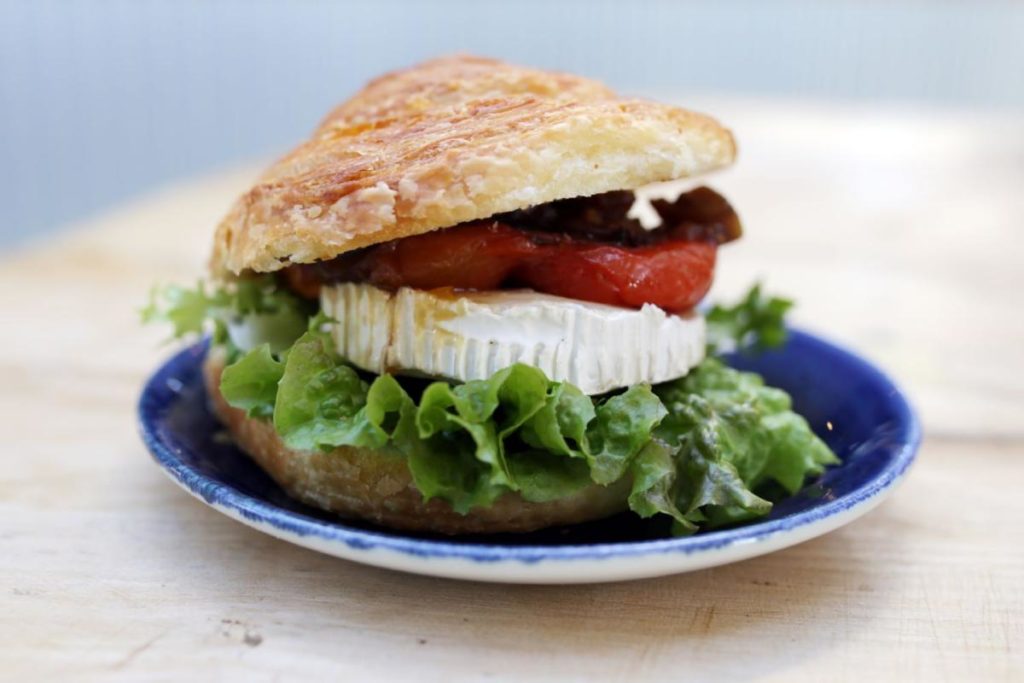 Buy The Extra Mile Guide: find better places to eat
Enjoy finding places to eat near you and near motorway junctions that are more interesting than boring big brands? Buy The Extra Mile Guide, out now and currently an Amazon No. 1 Bestseller (as at April – June 2023). It's packed with almost 300 better places to eat where you can find local food and flavours produced, picked or made by local people, to help support the UK's small food businesses.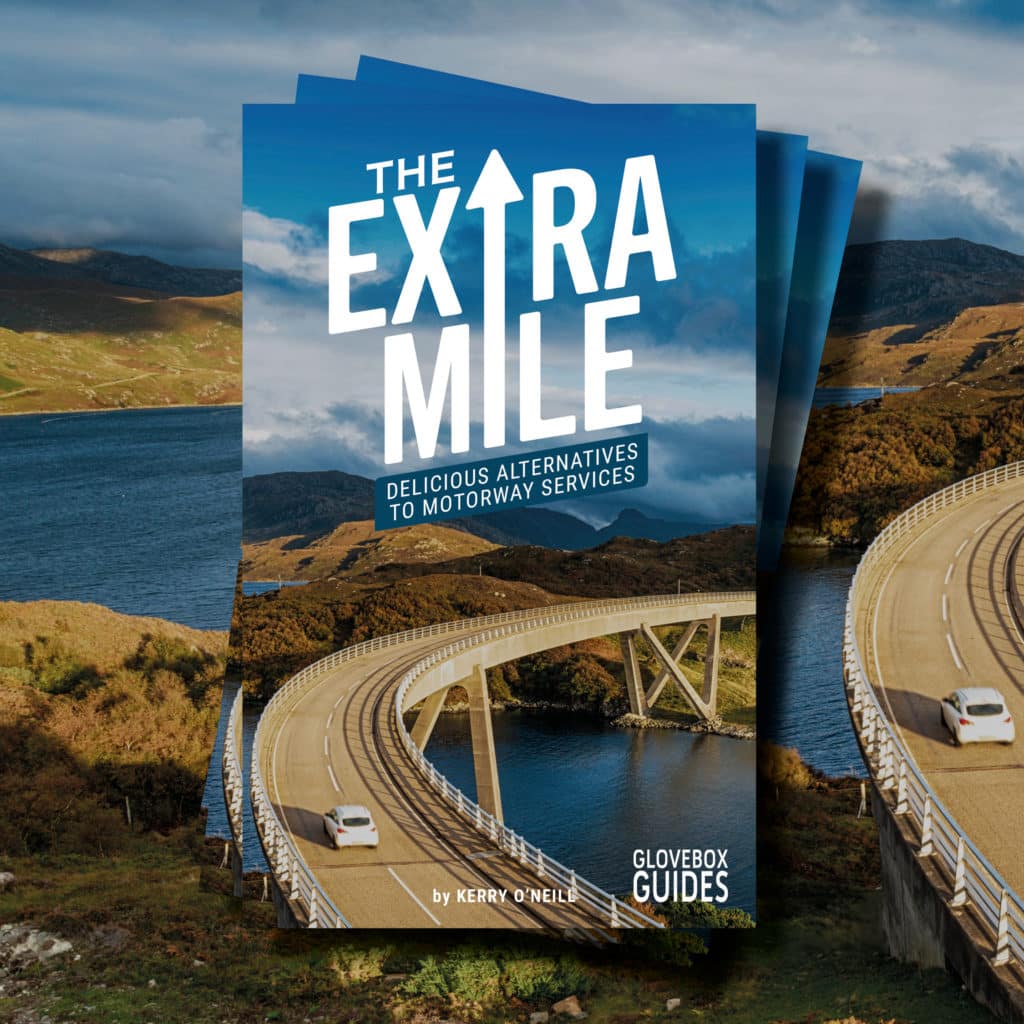 Coming next from The Extra Mile team: The Coastal Café Guide
In 2024, Printslinger Publishing (the team behind The Extra Mile) will bring out a new guidebook to the best cafés and places to eat around the UK's coastlines. Visit our new website here and follow us on FB and Insta to keep up to date with Coastal Cafés. Got a great suggestion for somewhere that would be great in this new coastal café guidebook? Email us today. Happy Glastonbury, all!