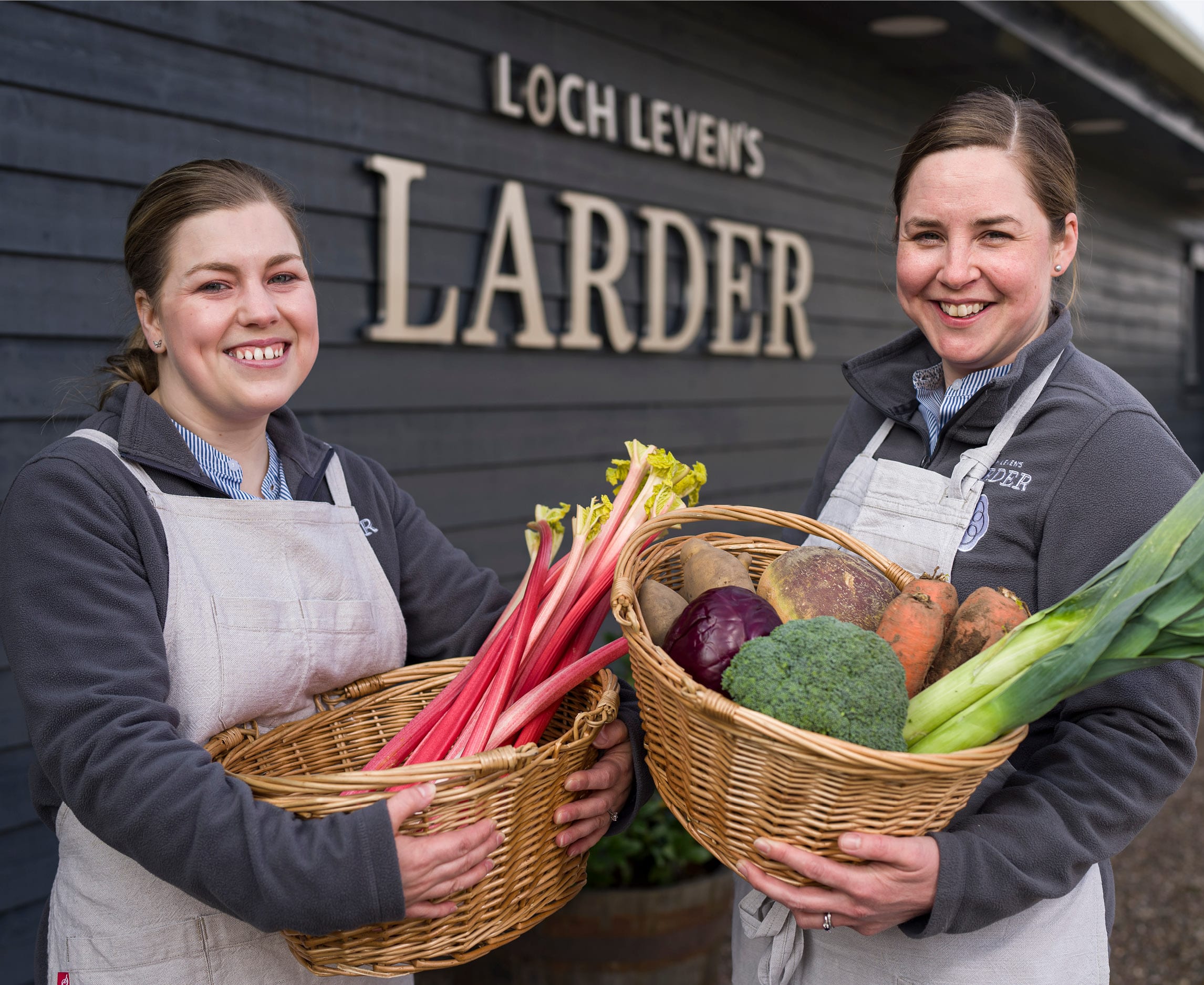 You're enjoying a road-trip around glorious Scotland when the hunger kicks in. You ask yourself, "Where to eat near me?", "Is there a great farm shop near me?" Perhaps you want a cosy local café for some tasty specialities, or a dog-friendly café near you. The Extra Mile guide is full of fab places to stop for food whether you're eating in, taking-out or compiling the picnic to end all picnics from fresh local produce. 
With The Extra Mile guide (buy yours here), you can find dog-friendly cafés, farm shops with EV chargers, and family-friendly places to stop near you. Take a look at some Scottish highlights, below, from our bestselling guidebook. We've teamed up with the award-winning Loch Leven's Larder, to offer a fantastic picnic hamper for two to one lucky winner, in celebration of National Picnic Week 2023 (see below).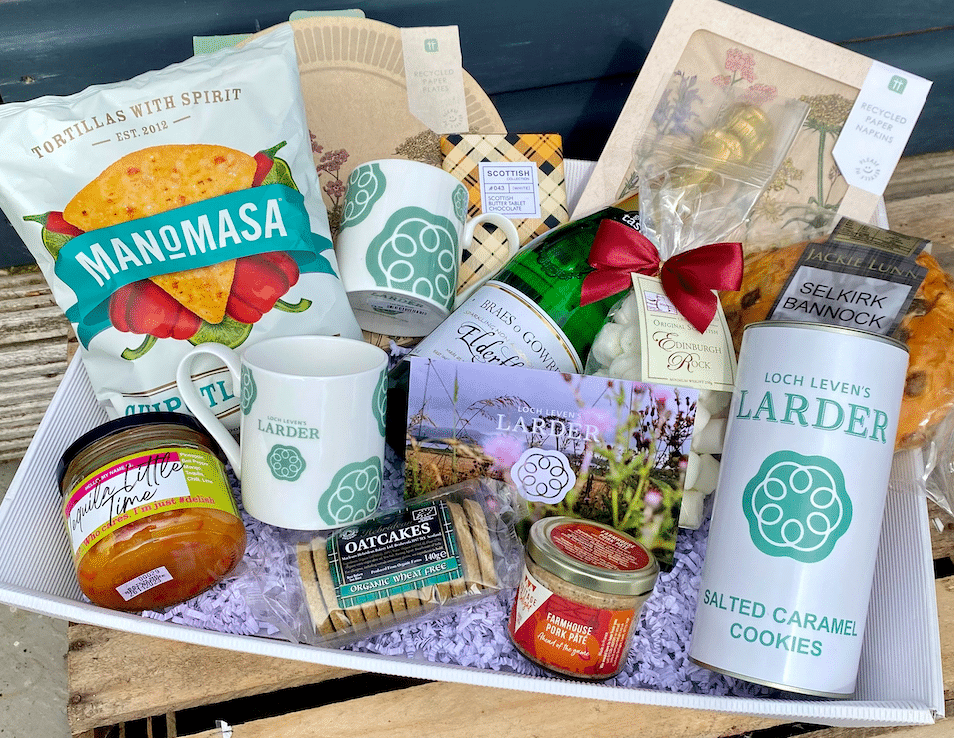 No#1: Loch Leven's Larder in Kinross
Pictured above,  Loch Leven's Larder is very near to Junction 8 of the M90. It's an award-winning farm shop, café, food hall, bakery, deli, gift shop and more, with high-quality local food, whatever-the-weather walks, quirky corners, a wonderful canopy café and more. 
To help The Extra Mile celebrate National Picnic Week in 2023 (June 17- June 25), they are offering our readers and followers the chance to win a Scottish Picnic Hamper in our June competition – visit The Extra Mile on Facebook for more details and to enter (runs until end June).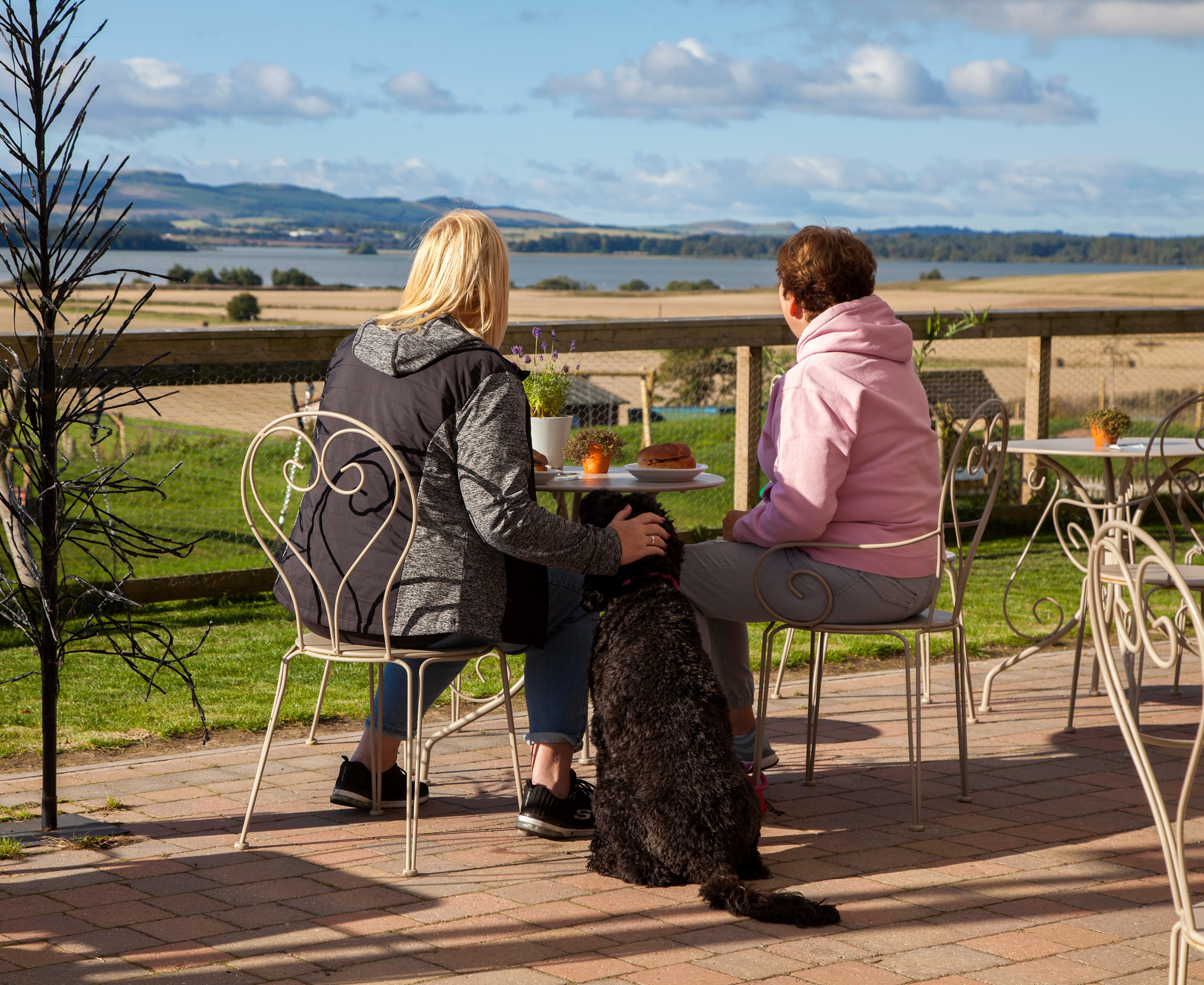 #2 Charleton Fruit Farm and Farm Shop in Montrose
If you're looking for some fruity PYO fields or a family-run farm shop near you in Montrose, enter: Charleton Fruit Farm. The happy folk in The Stables serve tasty meals all day long, from soups and salads to ever-popular panini and an arsenal of cakes. There's even the occasional BBQ and the proper burgers alone are worth the detour. 
The Pod in the Park offers hot dogs, ice-cream and teas and coffees to go, with PYO pumpkins, raspberries, apples and pears in season. The farm shop stocks home-sewn crops and local gifts and delicacies galore. The fortress and treasure hunts create excellent journey breaks for those travelling with children. A great farm shop in Montrose. 
#3 Cairn Lodge Services and Farm Shop in Douglas
Picnic seekers will love Cairn Lodge, a first-rate farm shop and kitchen that champions exceptional Scottish food, drink, craft and design. Its as-good-as-homemade cakes, savouries and colourful seasonal salads come from over 50 local producers. If you're travelling through Douglas, Cairn Lodge has a fab café near you that isn't to be missed. 
There's no mass defrosting here. There are snacks and artisanal gifts galore, while the coffee bar has charging points to help humans and devices top up together. This dressed-to-impress destination is a sister company to the famed family-run Gloucester and Tebay services and farm shops. A top-notch local-food focused café in Douglas.  
#4 The Bothy Bistro in Burghead
If exploring the coast between Inverness and Aberdeen, there are some great foodie stops and cafés near you like The Bothy Bistro (and its sister eaterie, Bootleggers on the Hopeman coast). 'It's fresh and exciting because it's not posh' said Masterchef judge William Sitwell, naming this bistro among his top 15 favourite UK restaurants.
Owner Ruth likes to know where things are caught or picked, and loves promoting her local flavours. Driftwood décor suits this coastal address, which is a failsafe stop-off if seeking artisan coffee and still-warm goodies from the in-house bakery to take on your coastal cruise or picnic. A first-rate independent café near the coast in Burghead.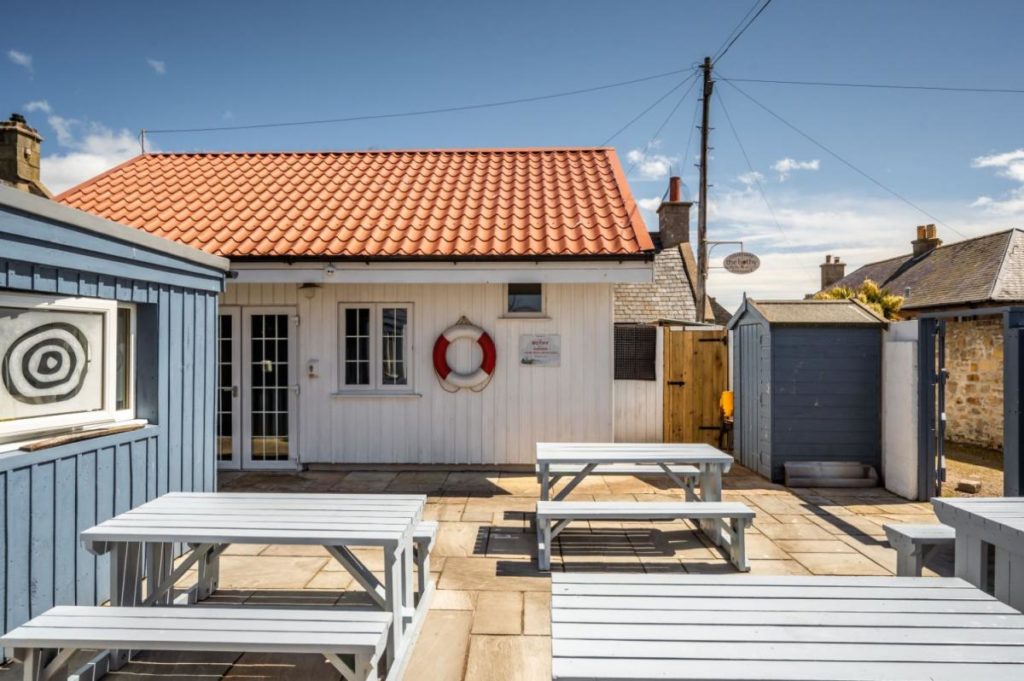 #5 Gloagburn Farm Shop in Perth
Gloagburn Farm Shop. What a find! If you're adventuring around the Perth area seeking picnic goods, this is just four minutes from the A9. Want a great farm shop near you? This is it. Set in the gently rolling hills of Perthshire, its view is maximised for those inside by the stunning floor-to-ceiling windows. Food with a view at its best. 
The farm shop has its own beef, eggs and home-baking, plus artisan products such as pottery, art prints and homewares. Everything stocked here must pass the family's 'tried and tasted' test before reaching the shelves, so it's a great place to stock up on supplies for your picnic or holiday destination. 
#6 Unorthodox Roasters and Café in Kinross
If you seek coffee grounds for your picnic or self-catering holiday cafetière or moka pot, visit this independent coffee roaster which is near you if you're passing Kinross. Unorthodox Roasters have some great names for their locally roasted coffee beans: Mindblown is our favourite brew by a country mile.
There are some great sightseeing spots around, from Lochleven Castle and Lochleven Nature Reserve to the Lomond Hills Regional Hills. Get your coffee and cake to go for an impromptu picnic and take a few pouches of their moreish coffee beans to enjoy once home. A memorable café near the M90 and A81.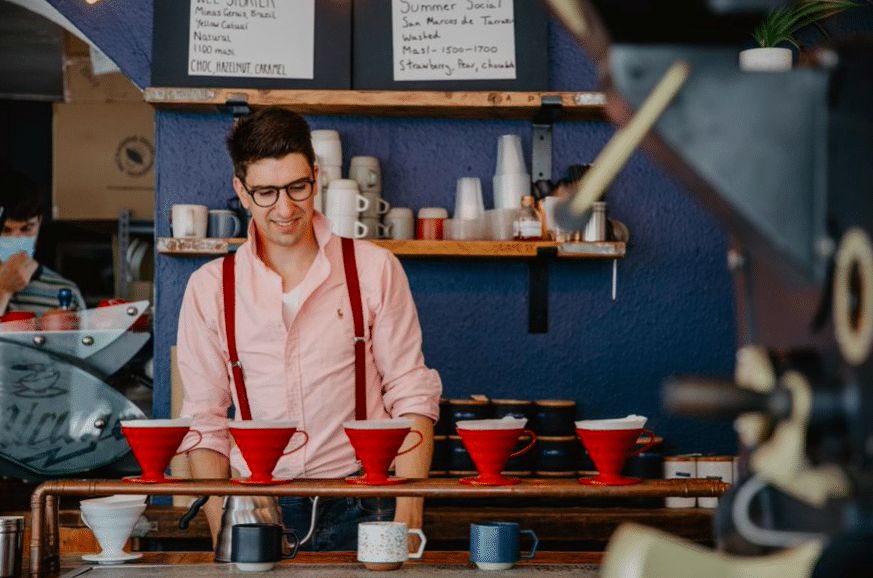 #7 Craigie's Farm Shop and Café in South Queensferry
Looking for somewhere to eat near you in South Queensferry? Look no further than Craigie's Farm Shop and Café. Found near the M90, Craigie's is perfect for those seeking a sit-down meal, or who want to browse the impressive local foods on offer in the café and farm shop. 
The shop has a butchery, the Buffalo Farm, and the café crams local ingredients into a menu of salads, sandwiches, specials and home-baked cakes and coffee to have in or take away. Dog-friendly and handy for picnics on Craigie Hill.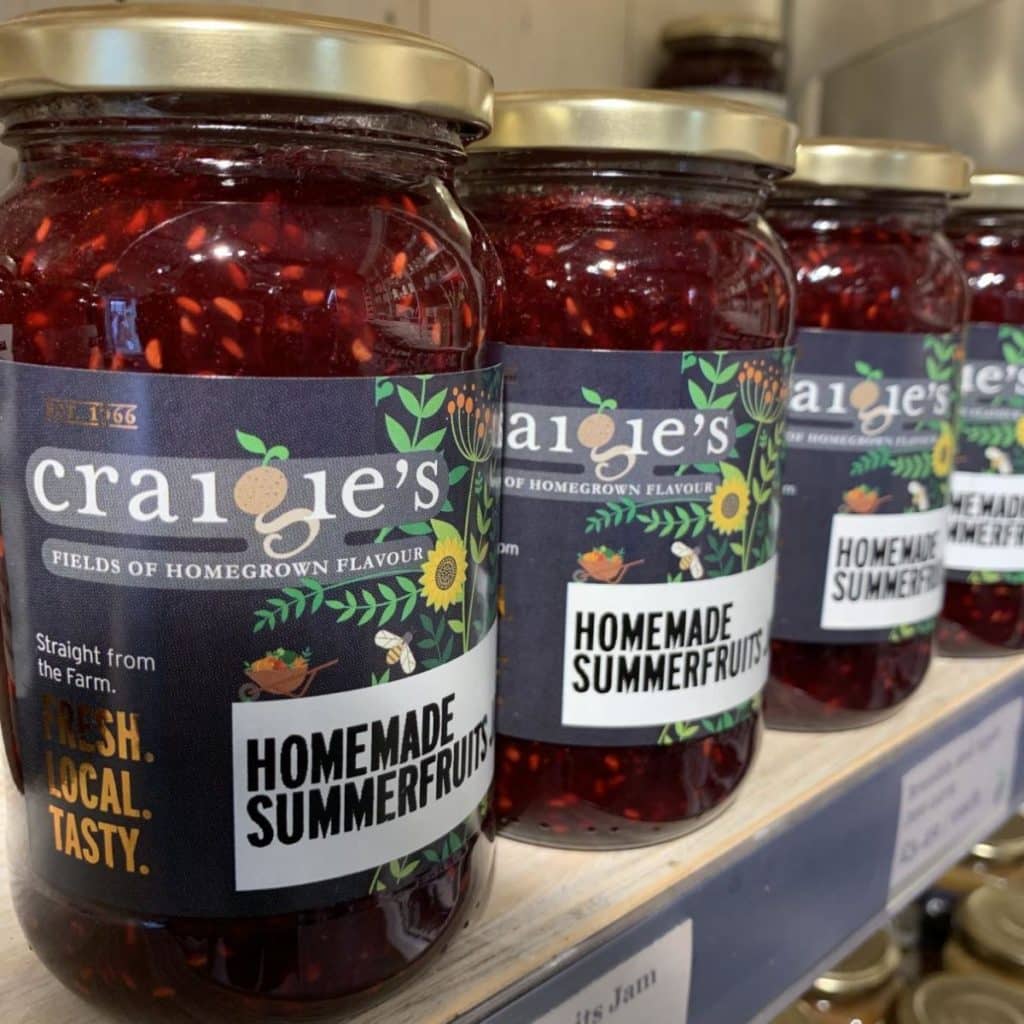 #8 Kilnford Farm Shop and Café in Dumfries
If you're travelling on the A75 and seek a café or farm shop near you, set a quick course for the Kilnford Farm Shop and Café, just one minute from the A75. The farming family puts animal welfare first and rears world-class Galloway beef and Blackface lamb: there are superb BBQ cuts and picnic treats to be found. 
In a hurry to get to your picnic? Order a veggie or fruit boxes in advance to collect – though you might want to stay awhile anyway to browse the cheeses, meats and olives at the deli. At their new Kilnford Bothy, try the 'Steak, Cattle and Roll' burger (a hit with gourmands and punsters alike). A great farm shop and café in Dumfries.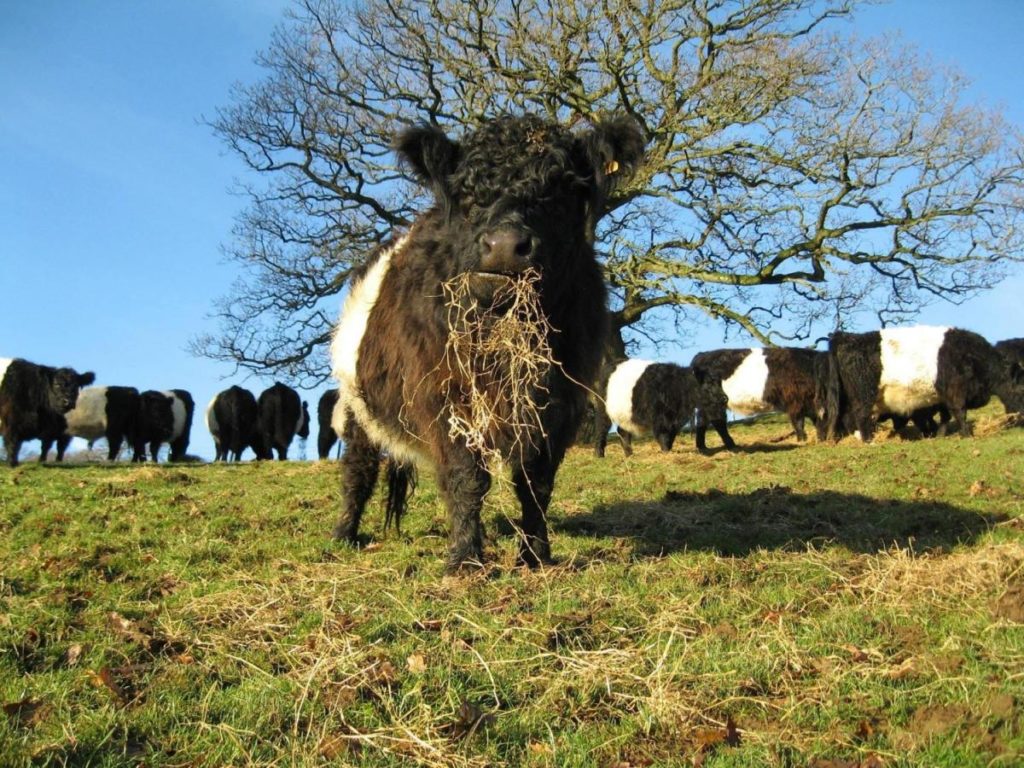 #9 Drift Café on the coast in North Berwick
A superb 'container' café in a spectacular location on the North Berwick coast is Drift, off the A1 near West Barns. You can eat in at the café for food with a view, or buy wraps, rolls, coffees and cakes to go.
Drift works hard with Scotland's agritourism sector and its small, cooked-from-fresh menu has earned it a Visit Scotland 'Taste Our Best' award. Buy to go and picnic on the beach below. 
#10 The Mainstreet Trading Company, St Boswells
If you're looking for a unique café in The Borders or St Boswell's, The Mainstreet Trading Company really is something else. You can pick up all kinds of things there, from picnic materials and coffee, cake and savouries to eat in or take away, to deli items, books and gifts. 
A previous winner of Britain's Best Small Shop, The Mainstreet Trading Company (books, café, deli and home) should feature in every journey via the Borders. Browse the fabulous bookshop before refuelling on dishes inspired by the boss's 'Cookbook of the Moment', perhaps.
Win a picnic hamper from Loch Leven's Larder
Thank you once again to the multi-faceted Loch Leven's Larder for providing us with a Scottish goodie-packed hamper for our National Picnic Week (17-25 June 2023) competition this year. Simply pop to our Facebook page to enter, no purchase necessary. 
We'll pull the winner at the end of June and will be in touch to send out your hamper. With such incredible farm shops and scenic spots all across Scotland, we think it should be National Picnic Year…every year!
Buy our bestselling food guidebook today
The Extra Mile is the perfect gift for people who like to eat well when on the move. It's packed with farm shops, independent cafés, tearooms, pubs, delis and ice-cream parlours. Maps help you find cafés and restaurants near you, and filters help you find dog-friendly places to eat, family-friendly restaurants, EV chargers and more.  
Head to our Shop to buy your copy for just £14.99 (+ postage). Buying direct helps support another small independent company: us! Thanks for reading and good luck in the June 2023 National Picnic Week competition: visit us on Facebook for more. If you're a venue keen to feature in our next book, email us today.