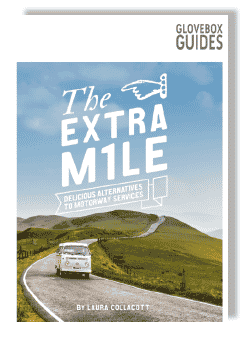 Avoid the Services: Nominate great cafés for the new guide
Research is underway for the 2023 edition of The Extra Mile – Delicious Alternatives to Motorway Services – every driver's essential guide to good food on the move.  
 
Nominations are welcomed from (or for) independent cafés, cosy tea rooms, quirky pit-stops and welcoming farm shops – within a 15-minute drive of a motorway or main A-road junction – to feature in this useful glovebox guidebook and on its companion website. Is there anywhere we really shouldn't miss?
 
Writer, Kerry O'Neill, said, "We're keen to fill the upcoming fourth edition of this sell-out guide with some classic and new foodie destinations to help drivers avoid the monotony of motorway services. We'll uncover the best farm shops, cafés, tea rooms and eateries we can find near motorway and main A-road junctions, many of which would love a helping hand following the challenges of recent years. The Extra Mile helps its readers find and support the small and independent food and drink businesses who are going the extra mile to keep us all fed and watered in local, low-food-mile style." 
 
England, Scotland and Wales: the café hunt continues 
In early Sept 2022, Icelandic foodie and photographer Iris Thorsteinsdottir will set off to explore Scotland's off-motorway and A-road wilds on a quest to find more venues to join The Extra Mile while author Kerry O'Neill continues her quest across Wales and England.  
 
Nominate yourself or a favourite venue 
To nominate a venue to join The Extra Mile – Delicious Alternatives to Motorway Services for the team to visit, go to Find a stop to see if it's already part of the collection. If not, submit the information at Join the Guide. Nominations should be interesting and independent (or part of a small regional chain) with a strong locally-sourced food ethos. They must be within a short drive – 15 minutes maximum and the closer the better – of a motorway or main A-road junction in mainland England, Wales or Scotland. Most importantly, they should be friendly, foodie and fabulous!
 
Who can be nominated? 
Coffee shops and tea rooms 
Cafés and bistros (including those within gardens or visitor attractions) 
Farm shops, farm shop cafés, garden centre cafés 
Delis and bakeries 
Vegetarian and plant-based cafés 
Unusual take-aways, pre-order picnics/ veg box companies 
Ice-cream parlours 
Breweries, wineries or distilleries with sit-in food options 
Family-friendly and dog-friendly spots 
 
Buy a copy for yourself or for a gift
The Extra Mile – Delicious Alternatives to Motorway Services is the essential glovebox guidebook for anyone seeking interesting eats while exploring England, Scotland and Wales by car. It's the ideal gift for drivers, food lovers and gloveboxes everywhere. The most recent edition (ed. 3, 2019, by Laura Collacott) sold out and was refreshed and reprinted for 2022 by Glovebox Guides. The new, fourth edition is being compiled now, with a deadline for inclusion of 30 Sep 2022. The book will be in good bookshops and online in 2023. For updates and an alert when the new edition is available to order, subscribe to our newsletter on the homepage. Buy the current edition now while stocks last.
—– ends —- 
 
Notes for editors 
For further press information and to discuss related content, photography, book giveaways and reader competitions, email Kerry at The Extra Mile Guide.
 
The Extra Mile guidebook 
The Extra Mile – Delicious Alternatives to Motorway Services is the essential glovebox guidebook to memorable food and drink experiences while on the move. It helps readers replace monotonous motorway food with the fresh, colourful and often locally sourced flavours of over 300 independent cafes, growers, makers and bakers, all within a 15-minute drive of a motorway or main A-road junction. Plan your journey, explore the alternative eateries and eat better when on the move, while supporting local producers. 
 
The Extra Mile website 
The Extra Mile site is an extension of the print guidebook with venue details and a 'search by map' function to direct hungry drivers to their chosen foodie venue. The site is updated regularly, with a curated collection of stop-offs, eateries and farm shops featuring in each new edition of the book. To submit a venue or request to join the collection, visit Join the Guide.
 
Glovebox Guides 
Glovebox Guides is an imprint of Printslinger Ltd, the independent publishing company run by renowned slow food lover, Alastair Sawday. Glovebox Guides will publish the fourth edition of The Extra Mile – Delicious Alternatives to Motorway Services in 2023 as the first in a series of new titles.  Buy direct from Glovebox Guides to ensure you get the refreshed 2022 reprint.
 
Kerry O'Neill, author 
Kerry O'Neill is a UK-based travel researcher and writer with an MSc in literary tourism. She has collaborated with key sustainable travel, food and wine brands including Secret Compass Expeditions, Sustrans, TravelLocal, Sawday's Special Places to Stay, Sidetracked magazine, Avery's Wine Merchants and FoodWorks South West. The Extra Mile is her first collaboration with Glovebox Guides.