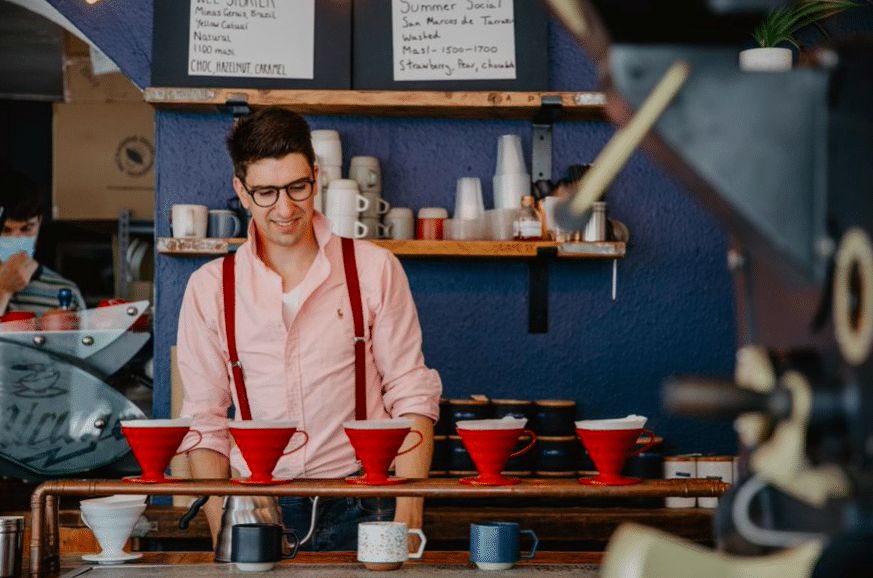 Win coffee: delivered to your door for a year!
Would you like to wake up and smell the coffee not once, not twice but monthly for a whole year? Join Printslinger's mailing list from 11th – 18th December 2023 for your chance to win one pouch of coffee grounds per month for a whole year (Jan-Dec 2024) from Scotland's inimitable Unorthodox Roasters. This is an excellent treat-to-self or we can provide a lovely virtual voucher so you can give this as a gift this Christmas. How to win friends and caffeinate people…
To enter, join our coffee-fuelled newsletter community here. Find out more about Unorthodox Roasters of Kinross (and this offer's Ts and Cs), below.  
Unorthodox Roasters in The Extra Mile​
Unorthodox Roasters joined The Extra Mile for our new 2023 edition. One of their founders and chief roasters, Chris, is so happy with being in our guidebook that he's made an over-the-top-generous offer to supply one of you with free coffee for a year. This is excellent news and we're going to pretend that we don't work here so that we can enter ourselves: sssh, don't tell him.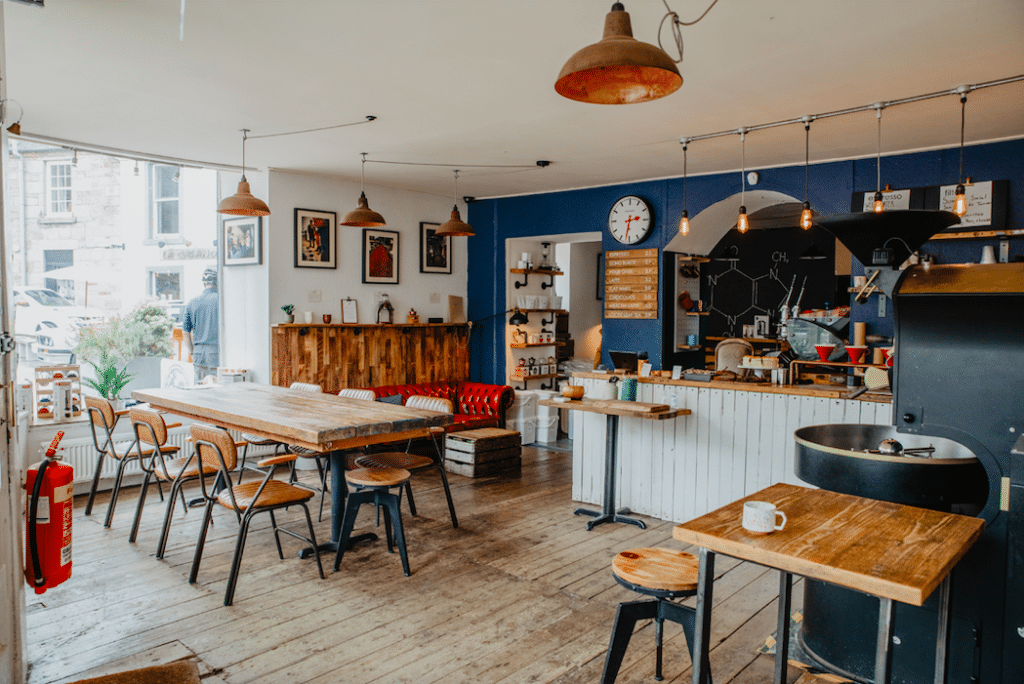 This is what our 2023 café guide ,The Extra Mile (an online 'Bestseller' and 'Most Gifted' in its category) has to say about Unorthodox Roasters. 
Everything about Unorthodox Roasters is just that: unorthodox. Their beans are roasted and named with humour; each chat with the friendly baristas spirals off in an entertaining direction; and their flavours are punchy and bold.
Chris and Neil started roasting beans at home while saving up to launch their first place. Their Kinross roastery and café is fun, with bronze and bare bulbs against blue and white walls. You'll be greeted by a V60 brew bar and manual espresso machine: every stage of the process has gravitas here (though it's all served without pretension and with a smile). Grab and go or settle in for brunch or some home-baking with your expertly crafted drink.
Their best-selling beans are the single origin Wee Stoater, with notes of chocolate, hazelnut and caramel. Other treats include beetroot hot choc; experimental lattes ('Chai Harder'), and an ethical tea range. Browse the coffee-lovers' kits and take some pouches of beans to enjoy at home.
If you like who we feature and how we phrase things, why not check the guide out for yourself? It makes a great gift for anyone who drives a lot and likes to eat well. You can buy it at many of the venues featured in the book (such as Unorthodox Roasters if you're passing) or you can order direct from us here. Get in quick if it's meant as a gift for 2024. 
Like Unorthodox Roasters on Facebook here. 
Follow Unorthodox Roasters on Instagram.
Buy their Single Origin coffee for delivery.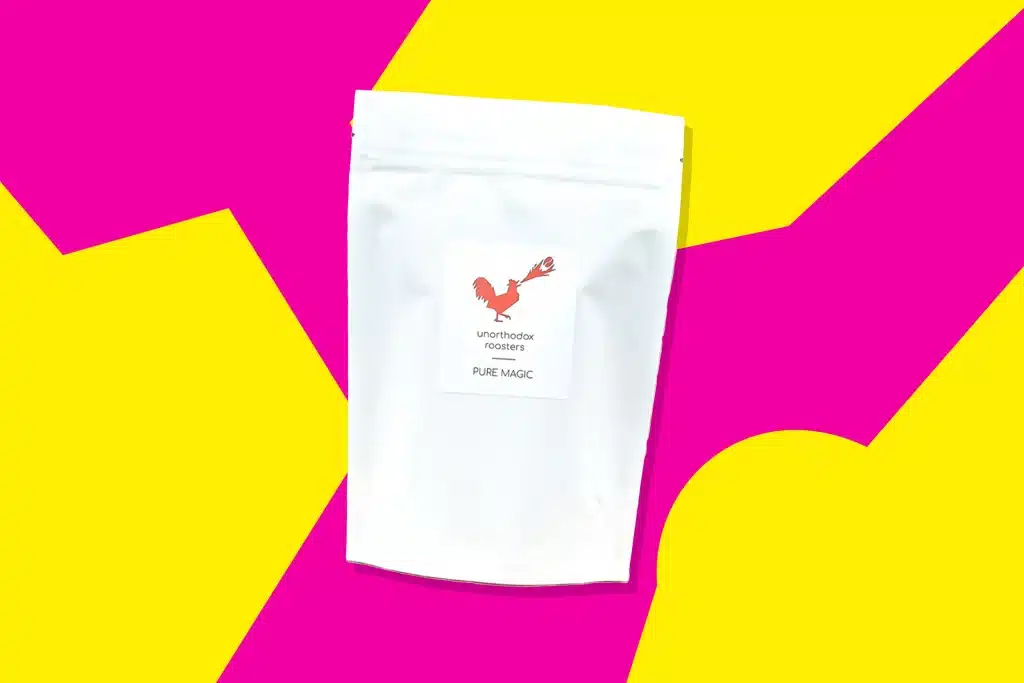 Draw Terms and Conditions
One entry per person.
One name will be chosen at random from those who sign up to join our Mailing List between 11th and 18th December 2023 to win this prize. 
First name, last name and a correct email address must be included in order to be entered into the draw. 
The winner will be contacted via email on 19th Dec. Two attempts at contact will be made within 14 days. If no response with the further information required is received by the original winner within 14 days of the second attempt, we reserve the right to redraw and to contact another person, drawn at random, to receive this coffee subscription. The original winner will forfeit their right to this prize and no alternative prize will be available or offered. 

The winner will allow for the prize, or the first instalment thereof, to be delivered by end January 2024.

The winner must provide Printslinger Ltd. with their full name and postal address, to be passed on to Unorthodox Roasters, for them to correctly deliver the coffee.
Unorthodox Roasters will supply the coffee(s) of their choice which will depend on availability and other factors. 
Unorthodox Roasters reserve the right to deliver the total weight of coffee in larger packages (i.e. 500g+) if agreed with the winner, to reduce packaging. 
This competition is only open to mainland UK-based entrants. 
The prize, of 12 x 250g coffee pouches (or the equivalent weight in different weight pouches), includes free delivery to one mainland UK address. A postal surcharge may apply to some Highlands, Islands and other non-standard UK addresses. 
The winner's first name, last name and town/ city of residence, for example Kerry O'Neill from Bristol, may be used across our online and offline channels to publicise the competition once finished.
Further opportunities for the winner to participate in Social Media promotion following their win may be offered; participation is totally optional. 
This competition is being run by Printslinger Ltd., with a prize provided by Unorthodox Roasters.
With any questions, please contact The Extra Mile via email. 
Printslinger Ltd

accepts no liability for any damage, loss, injury, or disappointment suffered by any entrants as a result of participating in the competition or being selected for a prize.

You agree that any personal information that you provide when entering the competition will be used by

Printslinger Ltd

for the purposes of administering the competition and for the other purposes as specified in our Privacy Policy.

Printslinger Ltd

reserves the right, at any time and without prior notice, to cancel the competition or amend these terms and conditions.
Buy The Extra Mile guide today